Office Pet: Basic Guidelines
Is your office ready for a pet?
Clear guidelines to keep you from being covered in
 at work.
---
GOOD

ideas:
Dogs are the obvious first pick office pet choice. After coming out of a stressful meeting, what's better than a labrador nuzzling it's nose on you. Instant good day.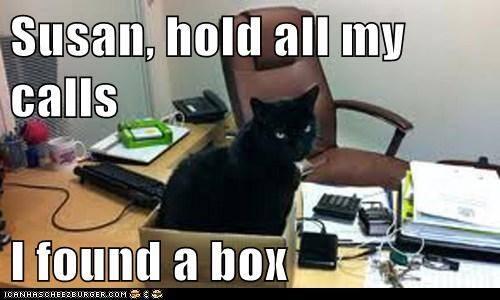 Cats are very low maintenance. They are used medically to reduce stress and prove to be a relaxing office companion.
Most of the time…
Fish.. just clean the bowl. But eventually no one will care.
Sloths are great office pets if you have the proper license.
---
BAD

ideas
Don't get any rodents. They will escape into the computers and walls and ruin your whole month.
This is self-explanatory.
Birds are all loud. Your goal is to increase the moral and enjoyment of your employees. The only way a bird can get this done for your employees is by it's eventual death as a result of the mutiny of your staff.
No Rodents.
Keep it cool, ask your employees before you decide to bring the pet in. Get a feel for how they feel. Ask yourself if having a pet in the office is beneficial. The point is to make the workplace BETTER by having a pet, not just doing it for the satisfaction of having Fluffy under your desk all day.
---
PartPixel's office mutt, Nora.
Many offices use animals to de-stress their workers and keep more happy and motivated.
In-fact, 20% of American companies adopted a pet-friendly office environment (according to the American Pet Products Manufacturers Association).
An office pet helps reduce employees' stress.
According to a study outlined in the International Journal of Workplace Health Management dogs decrease cortisol in employees when in the office. On dog absent days, employees' stress increased throughout the day.
If you're coming out of a stressful meeting and theres a cute labrador waiting outside the office for you, the day just immediately got easier. Also, if you allow employees to bring their own pets they often happily stay later because they don't need to go home to take care of their pets.
Connecting With Potential Clients.
There is no easier way to put clients at ease than having an animal to give your company a more personal feel. The dogs are a conversation starter and immediately destress the awkward ice-breaking situation that most meetings start with.
Improving Office Networking.
Before bringing the dog into the office we usually only talked about work and most employees had their cliques. Having a dog to connect with immediately changes the dynamic of the office by giving the employees something to talk about. Taking the office pet on a walk to the park and playing fetch now becomes a group task that increases communication and endorphine levels.
Improves Creativity and Health.
Most employees will only leave the office for lunch and then come back and do A LOT of sitting. Having the office dog allows employees the option of taking the dog for a walk, an interactive experience that clears their mind and reduces stress them as well as provides exercise outside of walking to the sandwich shop.
When thinking about allowing pets in the office, it is important to look at the bottom line and how it helps your office moral as well as efficiency, but also check if you are prepared to have office pets.
---
Things To Remember
---
Is your office available to house pets?
This includes building rules and regulations. Most of these can be bypassed by getting your pet a proper license as a service animal. This requires specific training but is not difficult or expensive bureaucratically due to relaxed rules on service animals.
Do you have plans for employees allergic to pet dander?
An animal allergy may be considered a disability under the Americans with Disabilities Act of 1990. If you don't want your business to be sued in violation of the ADA then it is important to find out if any of your employees are allergic to the office pet and make proper accommodations for them. Make sure your custodian properly cleans all rooms that animals have been inside and if some employees have non-workable objections to the animal, you will need to create areas of the office where pets are not allowed.
Are your pets optimized for an office setting?
A dog that jumps and barks and is consistently annoying and disrupting may not be a good candidate for an office pet, animals are typically helpful in calming. If your dog cannot fulfill that need, it may be distracting to your employees. Some cats will ruin furniture by using it as a claw sharpener. Most long-hair animals shed a lot and can cause a sanitary issue even with vacuuming. Remember that an animal could be a liability issue due to damage or injury that some animals can cause. You may want to consider requiring employees bringing their animals to carry proof of pet insurance, which is extremely cheap (Overall, you should plan on spending around $75 to $250 per year for around $300,000 in liability coverage).
Paul Terentev is a talented designer and program developer with experience in HTML, CSS, PHP, and Javascript. His strength as a staff developer comes from his previous entrepreneurial successes with Students4Students Education, a company that provides after-school classes where students can learn to code from PartPixel employees as well as a multitude of other STEM courses.
About us and this blog
We are a digital marketing company with a focus on helping our customers achieve great results across several key areas.
Request a free quote
We offer professional SEO services that help websites increase their organic search score drastically in order to compete for the highest rankings even when it comes to highly competitive keywords.
Subscribe to our newsletter!
Basics of Web Marketing What does successful web marketing require? Display a clear…
[easy-share counters=1 counter_pos="inside" native="no" hide_total="yes" fullwidth="yes" fullwidth_fix="100"]